The Ultimate AP Race Clinic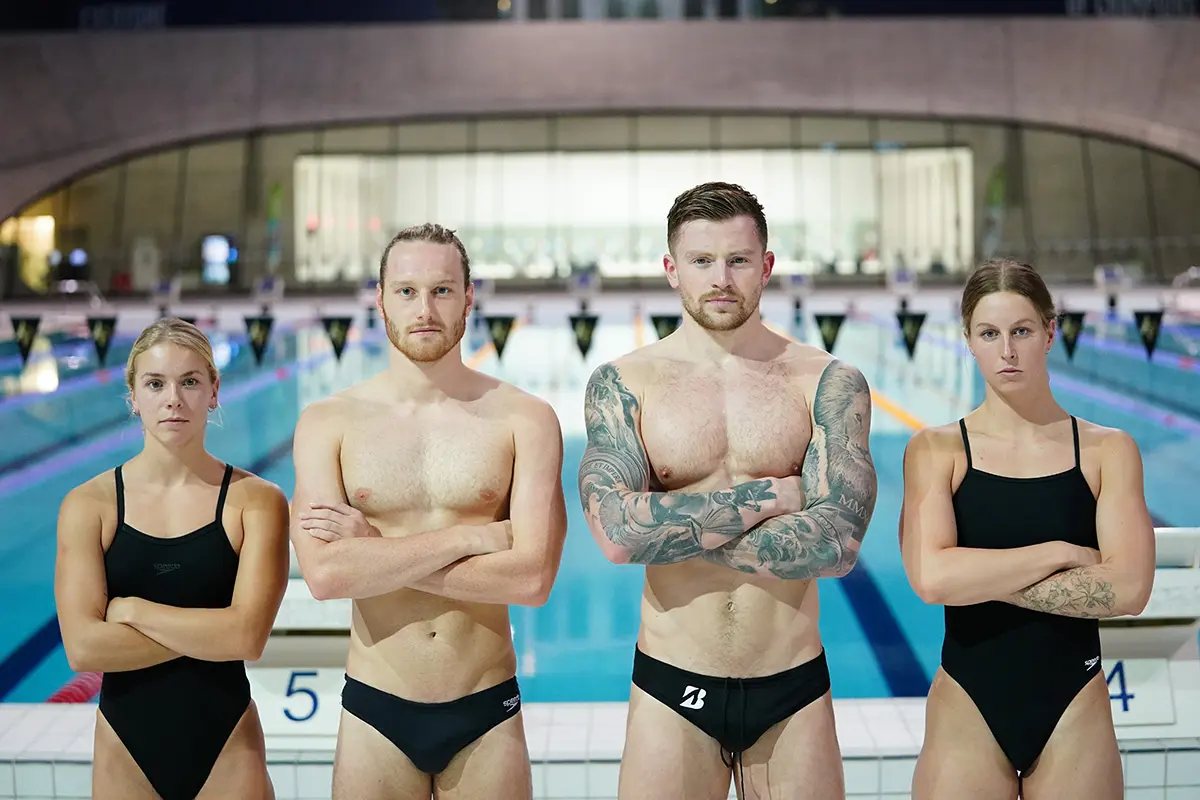 24 September 2023•
London Aquatics Centre, London
On the 24th of September 2023 you can have the Ultimate AP Race Clinic experience where swimmers will warm up, learn the winners walk, prime their bodies and have their chance to perform in one of the most iconic Olympic venues in the world.
The swimmers will be led by our AP Athletes Adam Peaty OBE, Luke Greenbank OLY, Anna Hopkin MBE, James Guy MBE, and Sydney Pickrem OLY. Between our AP Athletes they have a total of THIRTEEN Olympic medals, multiple World Championship Titles, numerous World Records and this is YOUR chance to meet them and be coached by them.
Book
Clinic
Time
Ages
Clinic 1
07:00-10:00
8-17 years old
Clinic 2
10:00-13:00
8-17 years old
Clinic 3
13:00-16:00
8-17 years old
Clinic 4
16:00-19:00
16+ and masters
Team
The clinic will be led by our AP Athletes and supported by our world class team of experts, this is the first time all AP Athletes and the AP Team have come together to deliver a clinic as one!
Adam Peaty OBE
Triple Olympic Champion, 14x World Record Holder and Multiple World, European and Commonwealth Champion. Adam is the most dominant swimmer in history, there is no one better to teach swimmers how to stand behind the block with complete confidence.
Luke Greenbank OLY
As a junior swimmer Luke had a hugely successful career however when transitioning to the senior ranks, he had a number of bumpy years. Now, he is a World Champion, double Olympic Medallist and multiple British Record Holder. Luke is going to be sharing his knowledge of how to have complete confidence regardless of past performances.
Anna Hopkin MBE
After a unique journey where she stepped away from swimming in her junior years before returning at university, Anna is now an Olympic, World, European and Commonwealth medallist after racking up 13 International medals Her approach to getting the details just right is highlighted by her world-leading starts, some tips from which she will share with our attendees.
James Guy MBE
A legend of the British Swimming Team, James has been on the international circuit for more than a decade, with two Olympic Games and five Olympic medals. He is an incredible team member, contributing hugely to relay teams over the years, whilst being an outstanding individual in Freestyle and Butterfly events. His insights that he will share, will no doubt inspire all our attendees.
Sydney Pickrem OLY
As a World Champion Sydney knows how to stand behind the blocks knowing that "today is her day". She knows she still hasn't had her best swim and having that confidence as a swimmer who has already performed at the highest level is very rare.
Tom Bates
When it comes to Performance Psychology in the competitive area, there is no one better to pass on knowledge than Tom. Having worked with Adam and Luke, Tom knows exactly how to put the skills of performance psychology into play in the swimming pool and deliver the best performances in the world.
Rob Norman
Having guided both Adam and Luke through many years of their swimming, Rob is one of the highest performing Strength and Conditioning Coaches in the world. After being a vital member of the team at the 2021 Olympic Games, Rob knows how to get athletes ready to race minutes out from the biggest performances of their lives.
Kevin Pickard
Kevin is a very experienced sports professional with a background as an athlete, coach and talent developer. He has worked across over 100 clubs and supported 1,000s of parents. Kev takes the lessons learned through working with some of the world's best athletes and feeds that information back down to all levels of the sport to ensure athletes, parents and coaches have the tools needed for the ups and downs of the sporting journey.
Jasmine Campbell
Jasmine is a World Class Sports Nutritionist, working with teams across several sports including performance swimming and elite football. As one of our two AP Race Plus nutrition team, Jas is well versed in delivering athlete and parent-friendly, practical information to help support developing athletes on their swimming journey.
Content
The Ultimate Race Clinic is all based around swimmers learning to produce their best results when it comes to race day.
Swimmers will go through a warmup led by the AP Athletes; this will be a race warm up designed to get swimmers prepared and ready to race. Often, swimmers arrive at the competitive arena and don't know how to warm up properly, the team will be sharing their secrets as to how they warm up before achieving Olympic success.
After the pool warm up swimmers will put on their poolside clothes and go through call room psychology and the "Winners Walk" training which is designed to make sure that when swimmers walk out to perform, they have no doubt and no fear.
A Dry land warm up is a key part of a swimmer's competition schedule, the final station is going to be "priming". Swimmers will go through a dry land pre-race routine that is designed to get the swimmers body primed and ready to perform at their peak level.
Finally, swimmers will be introduced onto poolside with a special entrance in front of the Olympic crowd and have their chance to perform in one of the most iconic aquatic venues in the world.
Parents will also have a workshop during the event dedicated to supporting them. This will be based around how to best support your swimmers through race day nutrition and race day support as a parent.
FAQs
Booking
To attend a clinic, you must be aged between 8 or over, age will be based off the day of clinic you wish to attend.
Spaces at each clinic are limited and the whole booking process will take place through the Swimming Events website. To save time when booking we would encourage you make a Swimming Events account and add your swimmers to your profile at your earliest convenience. Just visit swimming.events to get started.
The full day experience per swimmer is £149 inclusive of both VAT and booking fees.
Spectating & Photography
Parents and spectators are encouraged to watch the whole clinic; you are the Olympic crowd in the Olympic Stadium! Although we encourage spectating at the clinic, we request you don't interact with the swimmers (including your own child) whilst the swimmers are at the stations.
Please note photography and filming by spectators is strictly prohibited during the clinics for child protection purposes in line with facility policies. There will be a number of official photographers and videographers onsite at each clinic and these shots will be available to purchase after the event through SmugMug.
Please note at this clinic there isn't an opportunity to request signatures from the team however all attendees will receive a signed card from each of the AP Athletes on arrival at the clinic.